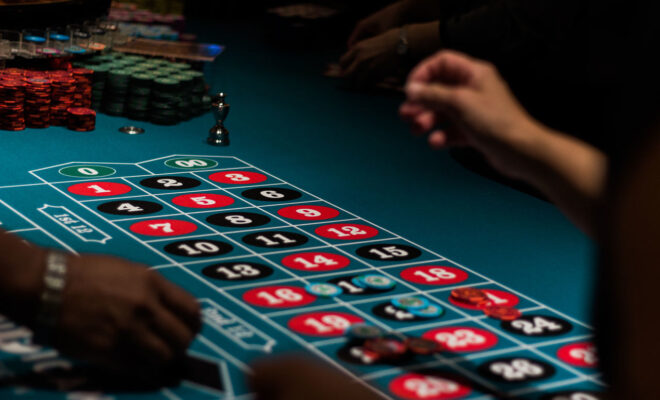 There's nothing better than planning your outfit for your night out to the casino – because when you look good…you feel good.
When I go to the Casino, I love playing Roulette. To me, Roulette is a true casino game and reminds me James Bond, villains, and Bond Girls. And who wouldn't want to be a Bond Girl? This James-Bond-Style fashion is the kind of fashion that I aim for when I'm planning my outfit, and I always think to myself…would I look good alongside Daniel Craig in this dress? If the answer is not yes, I need to change.
In true Bond Girl fashion, I like to wear a dress that makes me feel confident and beautiful…and compliments the black and red of the Roulette wheel. I always find that black is the safest option when it comes to dresses. Not only is it incredibly flattering, but it also goes with anything and everything, so you can always choose to mix and match your accessories to brighten up your outfit. Personally, I love my black dresses with a high neck and bare back because you always have to accentuate what you've got. So if you've got a nice back…flaunt it. If you've got nice legs…flaunt them.
Unlike many other casino games, Roulette is a game played standing up, so you need to be comfortable standing up for long periods of time. So 6-inch heels are a big no-no. Unless you feel comfortable wearing that kind of shoe. If you're one of those people, I commend you. If I know that I'm going to be playing Roulette that evening, I like to wear slight heels – high enough to be considered heels, but small enough to be able to walk in. This makes me feel confident and sexy, but not the point where I have to take a packet of bandages in my clutch bag…
Bond Girls are known for their diamonds, so smother yourself in them! Whether it's diamond rings, earrings, necklaces or bracelets, diamonds are the best accessory to any outfit and will make you the best looking Roulette player around the table. More is definitely less in the casino world and is all about keeping up appearances, so if you're going to do it…do it with a bang. Of course, if you don't have any diamonds, any other jewelry can be worn. It can sometimes be nice to wear delicate jewelry that sits well on your body but doesn't overpower your outfit.
Hair is so important when completing an outfit. When playing Roulette, I always opt for a sleek ponytail to complete my sleek outfit because I do not want to take away from the outfit I have painstakingly chosen. I don't want anything covering my dress, and a ponytail on a bare back is just fashion perfection. A ponytail is also a practical tactic, as Roulette requires a lot of bending and moving…so the last thing you want is your hair falling all over your perfectly preened face.