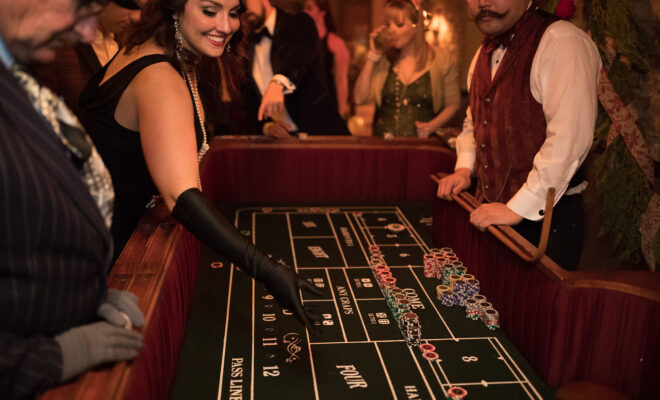 When I know I'm going to the casino; I like to dress accordingly. I like to plan my outfit around the type of casino I will be visiting. There are many casinos where outfit choice isn't an issue – you can literally turn up in jeans and a hoodie, and you'll be fine. But there are other casinos that really pride themselves on their exclusive clientele and expect their customers to dress to impress.
Personally, I like to dress flashy, yet comfortable, as I love playing Craps. Because this casino game is played standing up, I like to feel like I am not restricted in my movement, so I choose clothing that is light and flowy.
I have two go-to outfits that I wear when I know I'm going to be playing Craps. I either choose to wear a loose dress or straight legged trousers and a glitzy top. Although I love wearing dresses, I only choose to wear A-Line style dresses to the casino because I don't feel so constricted. I can still feel glamorous and stylish, but I still have room to maneuver myself around the table to watch the dice fall. Sometimes, though, I just really don't feel like wearing a dress, and would much rather wear trousers around the casino. Wearing plain trousers doesn't need to be boring because you can jazz your outfit up with a patterned or glitzy top that will add that stylish top…without being over the top.
The footwear you choose to wear to the casino is a make or break decision. If you choose the wrong footwear, your night could be full of pain and plasters…and nobody wants that. You want to have a good night and hopefully, win some money…without having to worry about whether you can feel your toes anymore. When I play Craps, I normally wear ankle boots that have a slight heel. Flat shoes in a casino just aren't for me, but sometimes you need comfort over style, so I compromise. Wearing heeled ankle boots allows for standing, but still look stylish.
If I choose to visit a casino that is not so strict on clothing requirement, I normally won't go full-out with my accessory choices. I always take a clutch bag with me wherever I go for convenience, and add a few delicate pieces of jewelry here and there to compliment the outfit and add a little bit of glitz and glam.
With this kind of outfit, I usually go with whatever hairstyle I feel like at the time. When you look at your outfit, it is normally easy to figure out whether a hair-up or a hair-down would be the best option, so it's always worth trying out a few different styles. Craps is a game that is spent standing up, and you may have to lean over a table here and there, so you don't want your hair to be in your face and obstructing your view…because it's incredibly irritating.